July 11th, 2014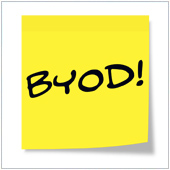 A common issue many businesses face, regardless of their size, is that their computer systems and devices get progressively older and slower, unless they are constantly updated. This can frustrate some employees who may have up-to-date personal devices, so much so that they simply start to bring these devices into the office. The idea of BYOD, or Bring Your Own Device, is not all that new, but it is a growing concern and if it's not handled properly it can pose a security risk.
What should I do about BYOD?
The first reaction of many office managers and business owners, worried about security threats that could stem from BYOD, is to impose an outright ban of devices. While telling your staff they are not to use their devices for work may seem like a quick and easy solution, you can be 100% sure that there will be employees who ignore this policy and use their personal devices for work regardless.
Read more.